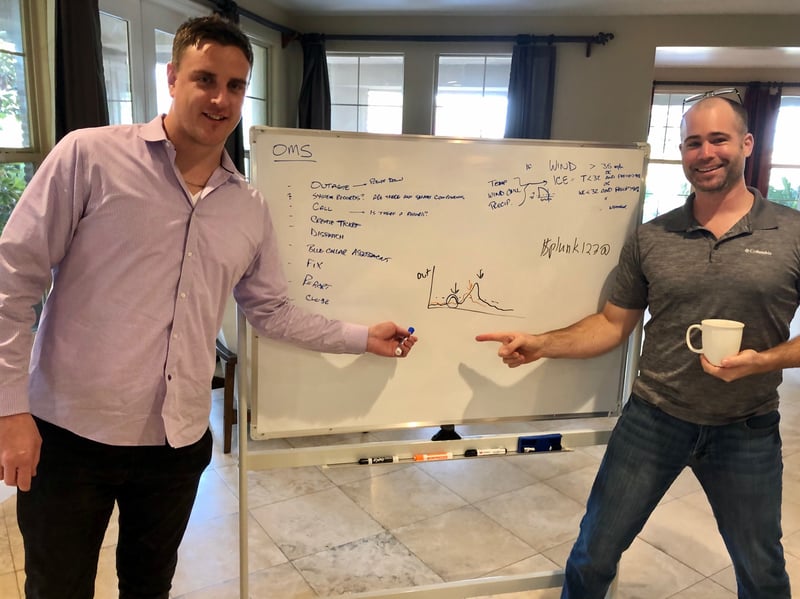 Ian Murphy and Brian Bates whiteboard Outage Management Use Cases.
We just wrapped up our first ever Arcus Data Hackathon! It's time to recap the event, showcase the final results, and share my feelings about it. This is the first post in a 3-part Hackathon series:
High Level Overview / Recap
Challenge 1 - NERC Compliance
Challenge 2 - OMS Monitoring
Why a Hackathon?
The idea to have a hackathon stems from countless conversations I've had with our consulting team, our customers and our partners. All too often, as soon as a project nears completion we begin to shift our focus to another effort, another project, or use case. The vicious cycle continues.
"I wish I had more time to…."
"If only we could have implemented...."
"Wouldn't it be cool to build...."
A lesson I've learned throughout my career is that sometimes, "to go fast you have to go slow". Day-to-day we're so focused on working with our customers and keeping up with the latest technology trends that we often forget to look up and see the bigger picture. At Arcus Data, we pride ourselves on creativity and innovation. So the decision to throw a hackathon was the decision to press the pause button, eliminate distractions, and dedicate an entire week to solving real-world customer challenges.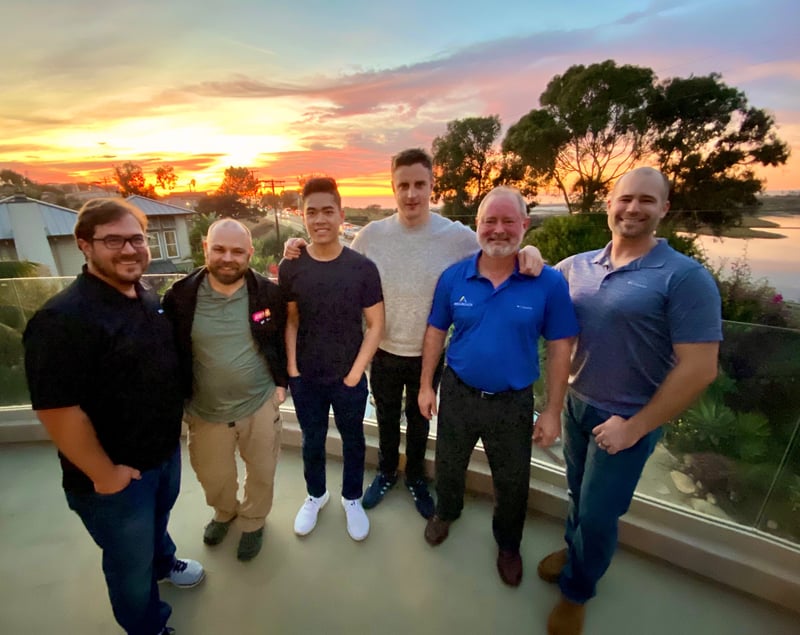 Arcus Data Hackathon in San Diego, California.
Expectations
Considering this was my first attempt at actually hosting a hackathon, I didn't know what to expect. There are plenty of well written guides which prepared me as much as possible, but I was nervous that we hadn't planned out every last detail. According to the guide, "Most projects will accomplish about 25% of what they think they can accomplish in the limited time they have." For a small company like ours, taking consultants off projects and flying them to San Diego requires a significant amount of time and investment. Would the team produce meaningful results? Could we cultivate enough fresh ideas and innovation to make it all worthwhile? There was only one way to find out.
During the opening ceremonies I decided to be honest and open with the team. Channeling my best Braveheart William Wallace I gave them a pep-talk to set intentions for the week:
Dedicate as much of the week as possible to solving problems that have an immediate impact for our customers
Strengthen our understanding of the challenges that the Arcus Data customers are facing
Provide an opportunity for participants to learn something new and hear from subject matter experts outside of Arcus Data
Team hacking on NERC compliance use cases. Prizes in the background.
Challenges
The theme for our inaugural hackathon was "Energy and Utilities & IoT". Over the years we've worked with several customers in this space and see an opportunity to improve on antiquated legacy solutions. We listened to the pain-points of our customers and devised two challenges broad enough to allow creativity to flourish:
Outage Management Service - Energy & Utility companies have challenges predicting outages and their related impacts. Can we better predict outages and estimated time to resolution (ETR) using various types of data analysis?
Critical Infrastructure Protection & Compliance - Energy & Utility companies have challenges monitoring all aspects of their NERC environment based on access, infrastructure, and other limitations. Can we develop advanced monitoring of NERC/CIP compliance leveraging various technologies and approaches?
Using weather data + Machine Learning Toolkit to predict outages
Results
After a few days of hacking it was clear that the team was firing on all cylinders. I was blown away by the creative approaches to the challenges. Here are just a few examples of creative ideas that flowed out of the event:


Machine Learning Toolkit - Using weather data to predict possible outages. Using metrics like temperature, wind gusts, and precipitation to calculate a probability score.


Choropleth Maps - We know the location of customer outages and when they happen. What does the distribution look like across the state? Are rural areas affected more than urban cities? Is there a correlation between outage causes (i.e., vegetation, squirrels) and location?


Splunk Business Flow - Analyzing the flow of tickets throughout a customer outage. How long did each step along the journey take? Which attributes caused some to take longer than others?
Using Splunk Business Flow to deconstruct a complex ticket process.


Javascript SDK - In order for a solution to be effective, it has to be simple and easy to use. How can we extend the functionality of dashboards for complex use cases? Can we use the Javascript SDK to create a better (intuitive) user experience?


UberAgent - Traditional Windows Event Logs only tell part of the story. Can we leverage high-fidelity logs and metrics to monitor and alert on compliance violations?


Splunk TV - Using Splunk's Connected Experiences suite of apps allows us to deliver analytics in new and creative ways. How can we improve the user experience using Splunk TV? We developed interactive dashboards -- enabling end users to answer complex questions with out ever seeing SPL code.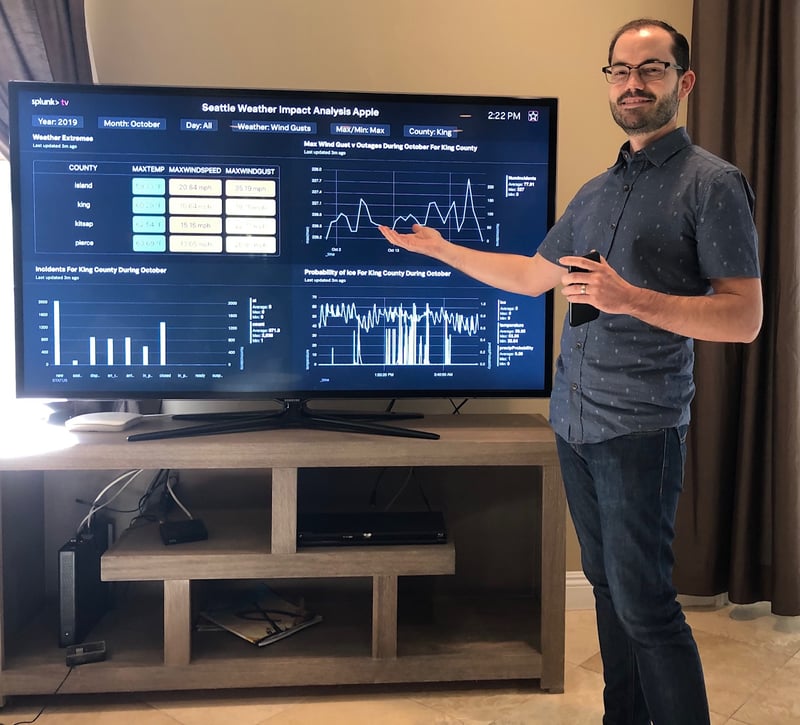 Menno Vanderlist delivers an IoT presentation using Splunk TV
Lessons Learned
The last day was reserved for final presentations, demos, and a roundtable discussion about the challenges. Each team had one hour to present their findings to a panel, including Josh Hritz (CEO) who was seeing the demonstrations for the first time. Both teams told similar tales of trying several approaches, seeing what worked and what didn't -- and quickly iterating on their design. The whole idea of "failing fast" was an underlying theme that united the teams and created excitement.
It made me think back to our customers, and how valuable lessons from the hackathon could be applied. When we're engaged on a project there are several layers of guardrails in place. There are expectations of tasks needing completion, a statement of work, and legal and financial contracts to consider. What I learned from the hackathon is that if you create space to experiment, try ideas that might not work -- more often than not you'll be surprised with the results.
I came away from hosting my first hackathon with an overwhelming sense of gratitude. The engineers at Arcus Data really impressed me by going above and beyond the call of duty. The ideas and fresh perspectives that came out of the event will be packaged into solutions which we'll bring back to our customers. And on a personal level, getting to interact with everyone in the trenches was a perfect opportunity to build relationships and strengthen technical skills.
Stay tuned to the Arcus Data blog for more coverage of the Hackathon. In the coming weeks we'll take a detailed look at the challenges, highlighting key insights, as well as technical content, how-tos, tips and tricks.
Special Shoutout
I'd like to say THANK YOU to the following people for helping out during the hackathon. These individuals donated their time and expertise to work with the teams, provide outside perspectives, and brainstorm on use cases. Thank you for supporting Arcus Data and strengthening the Splunk community:
Menno Vanderlist
David Lee
Julia Cuaderes
Kurt Walter
Jaime Sanchez

Nick McKerrall
Cheers to a successful Hackathon!
---
Want more insight like this? Make sure to follow us on LinkedIn, Twitter and Facebook!